MARK LINDSEY — Music Composer, Audio Producer/Editor, Web Designer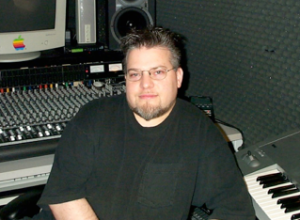 Since the age of 8, Mark Lindsey has been immersed in audio and computer technologies. Taking up organ and piano in grade-school, then trumpet and guitar in his teens, Mark started his professional career as a Computer Service Technician while still in high-school, quickly progressing to Service Manager after graduation.
In 1993, after several years of experience in the computer and entertainment industries, including technical positions at the Santa Cruz Beach Boardwalk and Knott's Berry Farm, Mark started his own music production and audio services studio in Long Beach, California.
His interest in Internet audio had sparked back in 1989 when he was the first music composer to offer samples of his tracks on then fledgling online services CompuServe and AOL. The Internet has been catching up ever since.
Mark spent another 10 years in the video game and electronic toy industries doing everything from scoring original music, recording and editing voice-over artists, creating proprietary instrument sound banks, designing sound studios and workstations, and programming FileMaker databases.
A logical progression based on all of his past experiences, Mark now operates a custom web audio marketing player & pro audio services company at TalkingSpeaker.com, a royalty-free music licensing service at PrimaryElements.com and does custom WordPress and SEO web design & hosting through his CaliforniaCustomWebDesigner.com service.
Mark sees huge potential in the future evolution of Internet, media and mobile technologies as "broadband and beyond" connections become truly ubiquitous, and he plans to continue pushing the convergence envelope.